From NPR.org
by Mike

Rhode
L.A. Johnson is one of the organizers of this weekend's DC Art Book Fair. It will take place on Saturday, November 12

(

here's its blog.

)

We caught up to NPR's Johnson before the show to find out more about her

work.
What type of comic work or cartooning do you do? -- Comics journalism, nonfiction, and absurdism.
How do you do it? Traditional pen and ink, computer or a combination? -- trad and mod.
When (within a decade is fine) and where were you born? -- Ohio, 1980s.
Why are you in Washington now? What neighborhood or area do you live in? -- Columbia Heights, this has been my home for the last 6 years!
What is your training and/or education in cartooning? -- I've always made comics, then I studied illustration at SCAD in Savannah, Ga.
Who are your influences? -- I love the storytelling from Guy Delisle, the freedom of Carol Tyler and the mind-fuck from Daniel Clowes. I also just got turned on to the Spanish site tiktokcomics.com from Ana Galvan, and the work on there blows me away.
If you could, what in your career would you do-over or change? -- Nothing.
What work are you best-known for? -- Comics and illustration on NPR.org.
What work are you most proud of? -- A story I did about an amazing art teacher, Jimi Herd.
What would you like to do or work on in the future? -- I'm currently working on a comic book about my journey to find my birth mother and how adoption shapes us.
What do you do when you're in a rut or have writer's block? -- I try something completely different -- like pottery or rock climbing.
What do you think will be the future of your field? -- It's going to be amazing. Comics journalism is on the rise, and particularly for the work that I do. I believe it might just be the truest way to tell a radio story on the web. I have a personal goal to get newsrooms to notice and respect this form of storytelling.
What local cons do you attend? The Small Press Expo, Intervention, or others? Any comments about attending them? -- I went to SPX for the first time this year as a reporter and got to interview some amazing cartoonists like Daniel Clowes and Lisa Hanawalt. You can read excerpts on my illustration blog nprillustration.tumblr.com.
What's your favorite thing about DC? -- That the city is enthusiastically moldable. You can come here and do anything you want and you will find support for it. Sometimes it is overwhelming how much there is to do here.
Least favorite? -- That we don't have statehood and people outside think I'm from Colombia when I hand them my ID. Also that people think there is no culture here... Way wrong!
What monument or museum do like to take visitors to? -- I love the

B

otanical

G

ardens and the

A

ir and

S

pace

M

useum the most... I like seeing weird shit out of place and think it wakes up the imagination. I also love sitting on the back steps of the

L

incoln

M

emorial.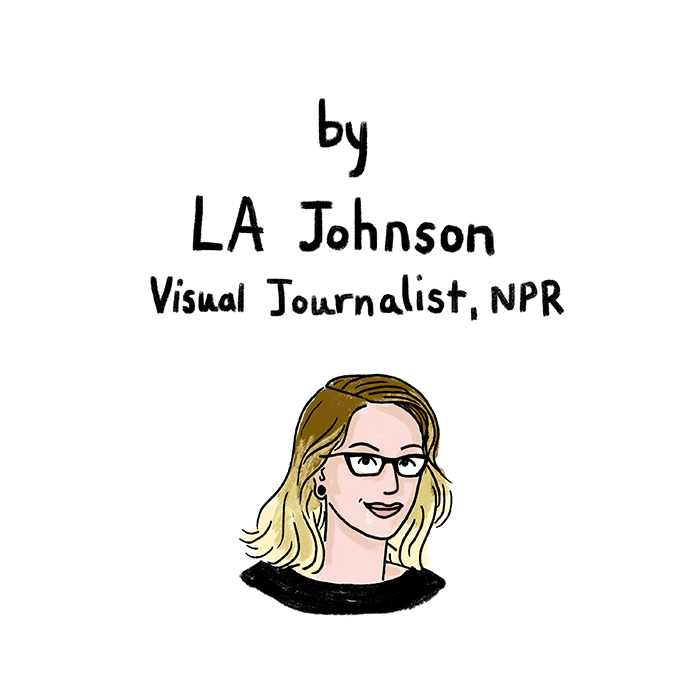 How about a favorite local restaurant? -- My friend Ben's wife just opened a little place you might have heard of... it's called Bad Saint... ;) I don't know if there are any awards out there that they haven't won. Well deserved. I also hold a dear spot in my heart for Comet Ping Pong. That's where I got my start doing show posters here in DC 6 years ago and their pizza and wings are the best in the city. I'll fight you on that.
Do you have a website or blog? -- www.thelajohnson.com and nprillustration.tumblr.com.