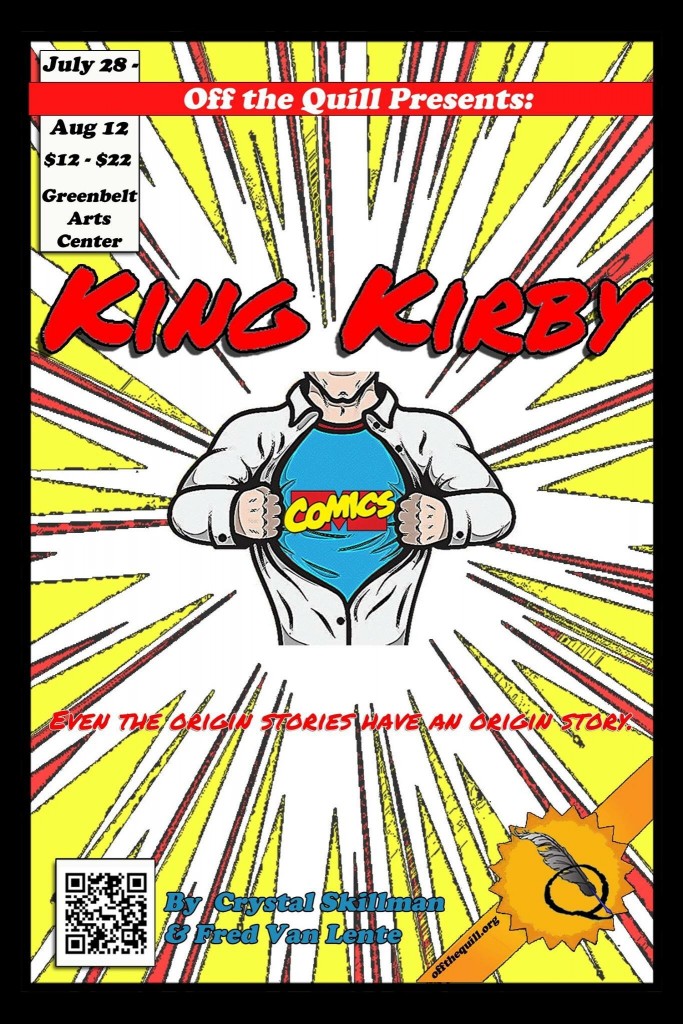 By Mike Rhode
Mike Rhode: When you cast Lee and Kirby, did you look at their real-life counterparts? Was that an issue for you?
Rehearsal shot of Josh Mooney as Jack Kirby and Erik Harrison as Stan Lee


WKC: It's pretty much Kirby's whole life. It actually opens after he's dead and there's an auction of his work and Kirby is commenting on it as an ethereal figure. Then it immediately flashes back to him as a kid in the street gangs in New York City. It goes through his life. We don't even get to Marvel until the last third of the play.
MR: How long does the play run then?
WKC: There's no intermission and it's about an hour and thirty-five minutes.
MR: So that's a lot of work for Josh Mooney who's playing Kirby…
WKC: Yes. There's one scene between where he's working for Max Fleischer and then going to work for Victor Fox, where he leaves the set. It's the only time he leaves the stage. For four minutes, he's not on stage.
MR: Are there any other comic book people in it?
MR: So this is a deep dive into comics for an average person – how much did you have to work to convince the theater that it would draw a wider audience?
WKC: Right. There were things I didn't know about Kirby. I didn't know that he and Joe Simon pretty much created the romance comic books. That was something I learned coming into this.
MR: Is Kirby's New York background a major part of his character?
WKC: Yes. I don't know much he felt this at the time he did it, or if it was later while looking back, but the play includes his regret that he changed his name to Jack Kirby from Jacob Kurtzberg, because he was very proud of his Jewish heritage and background. I don't think he wanted to be perceived as someone who was trying to hide that. There's actually a dream sequence at the end where he and Stan Lee are in a confrontation. The playwrights use the dream sequence to have a scene where Jack can say all the things to Stan that maybe he never said. One of the things Stan says is, "C'mon, you were ashamed," and Kirby replies that he wasn't ashamed.
MR: Everybody who was Jewish in comic books at the time changed their name. It would be hard to find someone who didn't.
WKC: We had several meetings in the spring and we had auditions a week or two later. So in April, but we really got into it in May.
MR: Does the scenery have any fantastic elements?
MR: You've cast your son, Brett Cassidy, in the play?
WKC: He's young, but he reads a lot older on stage. He's nineteen years old and he's 6' 7". He's playing most of the bosses. He plays Victor Fox, Martin Goodman, General Patton… he's playing all the characters that are intimidating.
WKC: Oh, yeah. It's one of the main themes. It's one of the things that I responded to personally. Kirby had no problem fighting in a street gang, or fighting in the Army in France, but tried to avoid personal conflict. He's also a product of the Depression and he doesn't want to hurt his job. Stability is important to him.
MR: Does the play cover his DC years [when he created The Fourth World and the New Gods]?
WKC: No, when he leaves Marvel, the play skips 20 years. The way we're staging it, we're doing a transition and will see the DC years through the artwork projections, but it really picks up again in 1982.
MR: The court case against Marvel about Howard the Duck ownership that eventually led indirectly to the return of his original art?
WKC: Yes, he's at a convention and he realizes someone is selling his original art. That leads into the dream sequence with Stan Lee. We just know he leaves because he'll get full credit at DC and not argue with Stan Lee over who did what. The lack of financial rewards is touched on too. He's at this convention and a fan asks him to sign original art, and Kirby asks how he got it. He also asks the fan about his New Gods for DC, and the fan says he couldn't get into it.
MR: It's interesting that comic book history is now focusing on creators instead of just the characters. I hope you are catching a wave.
WKC: I think so. Anybody that likes good theater will like it. Anybody that likes comic books will like it. We've got two good built-in audiences. It's a great cast.