Thursday, March 13, 2014
Santiago Casares
G.E. Gallas
Kevin Rechin
Matt Dembicki, Mike Rhode and Matt's original ComicsDC art
ComicsDC artwork over Mike's desk
Sunday, March 02, 2014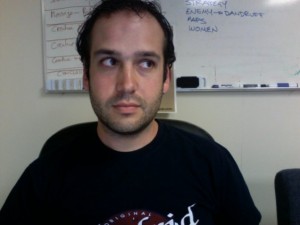 What type of comic work or cartooning do you do?
I do mostly cartoony comics, if that makes sense. My style relates more to comic strips than to superhero comics.
How do you do it? Traditional pen and ink, computer or a combination?
Every finished piece of art I do passes through the computer nowadays, and most of it is being done 100% digitally. That being said, I still draw in my sketchbook every day in pencil/pen and ink.
When (within a decade is fine) and where were you born?
I was born in Mexico City in the 70's.
Why are you in Washington now? What neighborhood or area do you live in?
I moved to Washington DC because of love (even though that might sound like a cliché!). We live in the Mount Pleasant neighborhood.
What is your training and/or education in cartooning?
I studied a BFA in Visual Arts in Mexico City and then a MFA in Illustration at the Academy of Art University is San Francisco.
My biggest influence as a cartoonist is Bill Watterson, who I consider the best there ever was. Besides him the people I admire and allow their work to influence me are very varied, from Mike Mignola to Scott Morse.
If you could, what in your career would you do-over or change?
I would've taken my drawing skills more seriously, and would've practiced more while growing up.
My best-known work is my webcomic, Chili's World.
What work are you most proud of?
This is a hard question to answer, as it's usually the last thing I've done! So, I guess it depends on what page I've just finished.
What would you like to do or work on in the future?
I am currently trying to break into the Picture Books market. Picture Books have the same element than comics in that it's a medium that combines images and words to create a whole new world.
What do you do when you're in a rut or have writer's block?
When I don't know what to do, I still have to do the work. Even though creativity might not be flowing as I wish it was, my webcomic still needs to be updated. So basically, I keep on working through the rut or writer's block…
It's taken a while, but now comics are being recognized as a proper medium to tell stories (both fiction and non-fiction). I believe that just like with books, most comics are going to be delivered digitally, with print becoming more of a collectors market.
What local cons do you attend? The Small Press Expo, Intervention, or others? Any comments about attending them?
I've exhibited at SPX and at the DC Zine Fest. And this year I'm going to be a part of a new show that looks very promising called Smudge Expo, over at the Artisphere in Arlington, VA. Attending shows is important to get to know the people that like your stuff and to promote it to new crowds.
What's your favorite thing about DC?
I love that you can walk almost anywhere in the city without the need of a car. And having amazing museums for free isn't too shabby either! :)
What monument or museum do you like to take visitors to?
I love taking visitors to the Kogod Courtyard inside the Portrait Gallery / American Art Museum (after visiting the museums, of course). It's such a peaceful place!
How about a favorite local restaurant?
I really like Beau Thai here in Mount Pleasant, or maybe Red Rocks Pizza or El Chucho's in Columbia Heights… I guess it depends on what I'm craving.
Do you have a website or blog?
Yes, I do! You can check out Chili's World at www.chilisworld.com and my portfolio at www.santiagocasares.com.
As he noted, Mr. Casares will be at Smudge this coming Saturday, March 8th.
Friday, February 21, 2014
Wednesday, February 12, 2014
Local graphic designer and illustrator

Santiago Casares

shares a pretty cool bit of animation he did for a client last year.